To support the National Apprenticeship Week, we wanted to share some key facts and figures all around apprenticeships and introduce the apprenticeship programmes available here at Harriet Ellis.
What are the benefits of apprenticeships to a business?
For employers, hiring an apprentice is a productive and effective way to grow talent and develop a motivated, skilled, and qualified workforce.
Research results published on the apprenticeship.gov.uk website show that
86% of employers said apprenticeships developed skills relevant to their organisation
90% of apprentices stay on in their place of work after completing their training
78% of employers reported an improved productivity
For a business, apprentices are a great way to diversify and freshen up an existing workforce.
The government offers funding and incentives for employers taking on apprentices, making it an attractive way to grow their team.
What are the benefits of being an apprentice?
As an apprentice, you get hands-on training from day one, and you learn from the skilled team in the organisation. As part of your apprenticeship programme, you will also have theory training provided by an external training provider. All your training is paid for, and you don't have to worry about training costs, tuition fees, or student loans and instead earn while you learn. With your on-the-job training and your underpinning theory knowledge, you can put everything you learn straight in to practice.
What to expect as an apprentice:
On the job training in a specific workplace 

A contract of employment 

A regular salary (if you are aged 16-18, or in your first year, you are entitled to the apprenticeship rate.
If you are aged 19 or over and completed your first year as an apprentice, you are entitled to the National Minimum Wage).
Holiday leave (a set number of paid days off work)

Hands-on learning, where you develop your skills in a real job

At least 20% of your working hours allocated to learning the theory with a selected training provider (such as Harriet Ellis)

The opportunity to study up to a degree level (e.g. our NVQ Level 3 Dental Nursing Diploma)
Apprenticeships are available for everyone:
School leavers:
Get a competitive salary, and your training paid for
Study up to, and including, degree level with an apprenticeship

 

People returning to the workforce, such as Returning Mums or Retrainers:
Whatever your age, it is never too late, and an apprenticeship can help you increase your employability and earning potential. Earn a competitive salary while you learn
Study towards a degree level
With thousands of businesses offering apprenticeships, there is always an opportunity, and it is never too late to start!
Which apprenticeship prog

rammes are available at Harriet Ellis?
At Harriet Ellis, we offer four different apprenticeship programmes within the Dental and Veterinary Industry. Simply follow the links below to find out more about the individual apprenticeship course.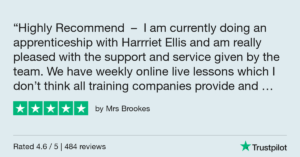 Here is a fantastic testimonial from one of our apprenticeship students.
Are you interested in our apprenticeship programmes?
Just speak to one of our apprenticeship advisors to find out more.
#NAW2021 #apprenticeships
Share This Story