Why study with us?
At Harriet Ellis, we are helping our students achieve their dream qualifications. We want to make sure you are well prepared for your exams, your further education, or your next career steps once qualified.
Harriet Ellis Training and Recruitment Group is a well-established training provider, delivering both recruitment and training solutions to clients nationwide for the NEBDN Dental Nursing Diploma, Dental Nursing Apprenticeships, the Veterinary and Healthcare industry.
Based in Romford, our client network includes UK dental and veterinary practices, as well as private hospitals and students from the UK and other European countries, planning to relocate to the UK.
We are proud to be accredited by the National Examination Board for Dental Nurses (NEBDN) for the National Diploma in Dental Nursing, and we are also fully accredited by the NEBDN for our online postgraduate Dental Radiography and Oral Health Education Course.
We work very closely with a network of Dental Practices to provide training courses for their teams but also to assist in filling trainee dental nurse vacancies or placements for our Dental Nursing apprenticeship programme.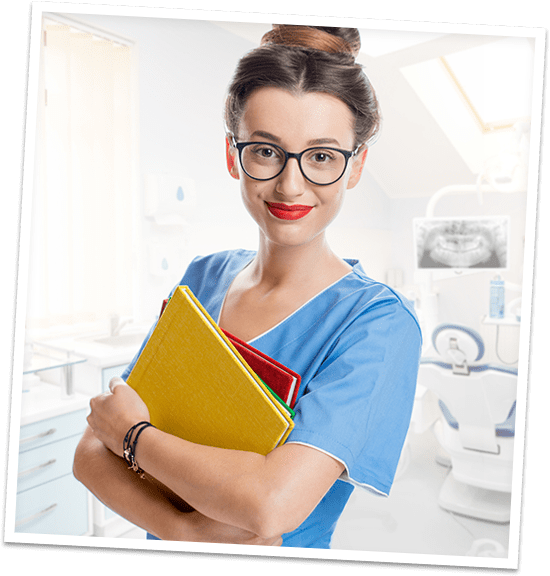 With 17 years of experience, we assist students in achieving their dream jobs right from the start and throughout their complete course programme.
With our integrated recruitment service, our Dental Nursing students receive support from our team of experts in finding employment in dental practices and assist in CV writing and interview preparation.
We are leading the way in the National Diploma of Dental Nursing qualifications with the National Examination Board of Dental Nurses (NEBDN). Join our nationwide registered Dental Nursing students and become one of the hundreds of students who have already achieved over 90% pass marks with our support.
As a student, you will have a dedicated customer service officer, and our student hub provides you 24/7 access to all our learning materials for a better learning experience to suit your individual needs.
As well as the Dental Nursing qualifications, we also offer postgraduate training courses, helping you once you are a qualified Dental Nurse to take the next step in your career.
We also provide training courses in the Veterinary Care and Animal Welfare sector.
Our flagship classrooms are in Stratford, London, but we are always looking for new centres. We are passionate about offering fantastic opportunities for students to start a lifelong career as Dental Nurses or in the Veterinary industry, with job security and excellent development potential.
We also provide classroom-based learning in Birmingham, Bristol, Cambridge, Ipswich, Leeds, Manchester, Newcastle, Nottingham, Oxford, Portsmouth, Stratford, and Surrey.
As part of our professional accreditation, we undergo regular annual audits with excellent reports on each location we run our classes.
Our Virtual Classroom
Harriet Ellis was one of the first colleges to pioneer the National Diploma of Dental Nursing qualification online. Pass rates for students taking the online course are mostly above 90% to qualify as Dental Nurse.
Our excellent e-learning solution, available for a variety of courses, provides 24/7 access to course materials and resources, allowing students to study at their own pace and work from the comfort of their homes.
Don't just take our word for it!
Our students have been busy sharing their 5-star learning experience, giving you peace of mind that you will get the support you need when signing up for our training courses. Not sure which course is right for you? Speak to one of our course advisors.
Our Mission:
"Placing People First" has been our mission from the first day we started as a training and recruitment company in 2003.
We aim to provide our customers with the highest possible level of training solutions at all times.
We continue to strive to offer exceptionally high-quality experience with dependable and inspiring delivery.
We will enable and encourage our students to secure relevant opportunities so that they have the skills to build on aspirations and further their careers.
Our Vision:
We are consistently innovating new ways in which to educate our Dental Nursing and Healthcare students to the highest standard possible.
With our unique approach of combining training and recruitment support, we aim to increase our availability of learning opportunities in the Dental, Healthcare and Veterinary Industry.
Our Values:
Just like our Mission "Placing People First", our values are people focused.
Customer Centric  |  Integrity  |  Expertise  |  Quality  |  Flexibility
We ensure every facet of the business is focused on customer service and aim to deliver an exceptional service to all our customers, internal and external.
We use our experience and knowledge to create the best experience for our customers, where Quality is at the heart of everything we do.
We anticipate the changing market and understand that flexibility means continuously adapting to the latest technologies across all our products and services.