Once qualified in your dream career, it's a great feeling to finally just enjoy work without extensive learning or exam pressure. For some occupations, there may be occasional short courses required, to keep up to date with products or industry standards and for others, there are stricter regulations, which require regular Continuing Professional Development (CPD).
Especially where registration with governing bodies is needed as part of working in a specific industry, CPD courses are often mandatory. To ensure, these requirements can be achieved, either the governing bodies or external training providers offer a variety of industry-related courses to either improve existing skills or add new knowledge.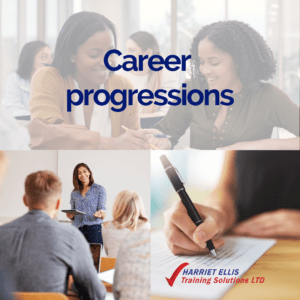 What are the best career progressions for Dental Nurses?
For registered Dental Nurses, the most common way to gain the required CPD points could be a progression into Oral Health Education or Dental Radiography as an addition to the existing skills. Both are practice-orientated subjects where Dental Nurses can support the team within their work environment. If you are interested in any of these courses, speak to one of our course advisors. Both postgraduate qualifications are available at Harriet Ellis Training solutions. 
Are there other career progressions not just for Dental Nurses?
Alongside these clinic-focused career developments, there are also opportunities outside the direct clinic environment, or for other professions, outside their direct place of work closely related to the individual subjects.
If you are passionate about your profession, enjoy sharing knowledge, and would like to support others in achieving their dream careers, then the education sector is a fantastic alternative to not only progress but also develop a new career path.
With the Level 3 Award in Education and Training, you can gain the relevant qualification to teach in the post-16 education sector, which would allow you to start teaching dental nurse students and help them on their journey towards their diploma. You don't need any previous teaching experience or qualifications and can study the course from the comfort of your home in your own time. There is no minimum teaching practice required for this course but a minimum requirement to participate in microteaching, which means you can still get qualified even if you are not currently working in a teaching role.
Not sure if teaching is right for you? How about assessing students?
The Level 3 Certificate in Assessing Vocational Achievement is a great qualification if you are interested in assessing occupational competence in the work environment or vocational skills in a classroom or online training environment. To become a qualified CAVA assessor you will need to be more than passionate about your profession! Becoming an assessor means you will need to be an expert in your field and show competence in understanding every aspect of the role and the work you do and demonstrate, that you can assess others to meet those required standards. With the CAVA qualification, you can add real value to your portfolio which can open up fantastic career opportunities for you in your industry!
If you would like to find out more about these qualifications, speak to one of our course advisors. They are happy to assist with any questions you may have.
Our first AET / CAVA cohorts start Monday, 15th March 2021. 
Are you ready to take your career to the next level? Register today!
#NCW2021 #post16education #becomeatutor #postgraduatecourses #awardineducationandtraining
Share This Story