With our Gold Standard Dental Nursing Diploma experience, you can rest assured that we have you covered every step of the way.
By enrolling in our Gold Standard course, you not only gain comprehensive knowledge and skills but also enjoy valuable benefits. We understand that passing the NEBDN exams can be challenging, which is why we provide you with an exclusive insurance policy. If you happen to face any setbacks and don't pass the exams on your first attempt, we've got you covered.
Think of our Gold Standard course as your safety net. We will bear the additional costs associated with any resits you have to take for the two examinations. You won't have to worry about paying extra fees. We are committed to your success and will extend the course for you free of charge. Our support doesn't end there—we will provide you with additional resources to enhance your learning experience.
This comprehensive package ensures that you have peace of mind throughout your dental nursing journey. We believe in giving you every opportunity to succeed, which is why we guarantee you at least two attempts at the NEBDN examinations before any additional fees apply.
Don't let exam nerves get the best of you. Even if you feel a little anxious, rest assured that we are here to support you. We understand that despite knowing the answers and what you need to do before the examinations, nerves can still creep in. With our Gold Standard course, you can overcome your worries and focus on your success.
By choosing our Gold Standard course, you not only receive exceptional training but also save £1,348. Take advantage of this all-inclusive package today and embark on your journey to become a successful dental nurse.
Dental Nursing Online Course Description
Dental Nurses play an essential part in a dental practice as part of a dental team. The role of a Dental Nurse involves assisting the dentist throughout a variety of patient treatments, taking care of treatment tools and equipment,  and making sure all patients are looked after. 
Compared to an office or desk job, dental nursing is a very hands-on job.  If you want to become a Dental Nurse, some of your duties and responsibilities will include: preparing the treatment room and relevant materials for dental treatments, chairside assistance, supporting the dentist throughout the treatments, patient and treatment record-keeping, making patients feel relaxed and at ease, or cleaning and sterilising instruments, just to name a few.

What makes a good Dental Nurse?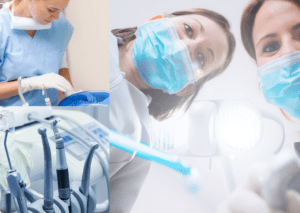 As a Dental Nurse, you need to have a friendly nature and be calm and welcoming, to help patients feel at ease. Most importantly, you need to be sympathetic, have excellent communication skills, and the ability to maintain professionalism at all times when dealing with a variety of patients.
In addition, Dental Nurses also need to be good team players, as they work hand in hand with their fellow Dental Nurses, the Dental Receptionists, Dentists, Hygienists, and any other Oral Health Professionals.
How can I become a Dental Nurse?
Firstly, to become a Dental Nurse, you need to study dental nursing to gain the relevant qualification. Therefore, you need to find an accredited training centre such as Harriet Ellis, where you can study for a Dental Nursing Diploma qualification. Secondly, you will need to find a job in a dental practice or hospital. This is important because you need to cover the practical learning experience alongside the theoretical aspects you learn on the course.

With our NEBDN Diploma in Dental Nursing e-learning course, you can qualify in just 12 to 18 months.
Choosing an online Dental Nursing course is certainly one of the most flexible ways to study. It allows you to arrange your learning around working in a Dental Practice where you gain the required practical experience.
You can decide to either work full or part-time to suit your learning requirements. 
Harriet Ellis is a registered training provider with the NEBDN (National Examining Board For Dental Nurses), which means you can be certain, that your training and qualification are of the highest standard.
Our Dental Nursing student support team will assist you throughout your training. In addition, they will help you with CV-writing and interview preparation. We have written a blog about top tips on how to prepare for an interview, which you can read here. 
As a student on the Dental Nursing Online Course, you have 24/7 access to our e-learning platform and the Student Hub. Here you will find a wide range of study materials and useful resources. Furthermore, our Student Hub also has a job vacancy section we regularly update with job opportunities in your area.
What will I learn on the Dental Nursing Online Diploma Course?
As part of the theory, you will learn about Anatomy & Physiology, Oral Diseases & Pathology, Orthodontic Procedures, as well as patient care and communication.
Working in a dental practice or hospital, you will learn from qualified Dental Nurses. They will help you to complete your ROE – the Record of Experience. The ROE is important to demonstrate that you gained the relevant practical skills.
Is Dental Nursing a good career choice?
While it may be true that being a Dental Nurse can be a demanding job, it is definitely a very rewarding career.
Dental Nursing provides you fantastic
opportunities to progress once you are qualified.
As part of your personal development, we can assist you with our postgraduate qualifications in Radiography or Oral Health Education. Both courses available here at Harriet Ellis Training Solutions.
Once you have gained at least one or two years of clinical experience, you may also wish to progress to become a Head Dental Nurse or Practice Manager.
Alternatively, you could progress to become a Dental Nurse Tutor or Assessor. At Harriet Ellis, we offer the Level 3 Award in Education & Training (AET) and the Level 3 Certificate in Vocational Achievement (CAVA).
If you need any further information about becoming a Dental Nurse or our NEBDN Dental Nursing online Diploma course, why not speak to one of our course advisors? They are happy to answer any questions you may have.
Health and Safety in the workplace
Emergencies in the dental surgery
Legal and Ethical issues in the Provision of Dental Care
Anatomical Structures and Systems relative to Dental Treatment
Oral Disease and Pathology
Patient Care and Management
Assessing Patients Oral Health Needs and Treating Planning
Oral Health Promotion and Preventive Dentistry
Restorative Dentistry
Oral Surgery
Orthodontic Procedures
Dental Drugs, Materials, Instruments and equipment
Pain and Anxiety Control in dentistry
Radiography
Communication
This is an eLearning Course
Study at your convenience from any internet connected device via our interactive eLearning platform. You will be under the supervision of our expert course tutor who will provide all the necessary support via this online platform. This course has been successfully delivered to over 500 students achieving pass rates over 90%