Dental Nursing Diploma Course Description

Dental Nurses play a very important role in every Dental Practice.
They are not only responsible for setting up the treatment rooms but also for looking after patients. Part of their job is also to make sure dentists have everything they need as well as assisting them throughout treatments. Undoubtedly, being a Dental Nurse is a very rewarding career. You work as part of a team and no two days are the same.
NEBDN Dental Nursing Diploma – qualify in just 12 or 18 months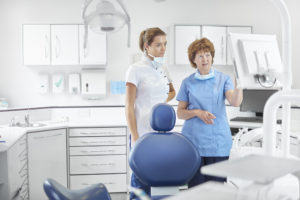 The Dental Nursing Diploma course is a combination of online classroom lessons and distant home learning. Lessons take place every six weeks remotely online for 4.5 hours each with the intention to give you enough time to work through the course material.
As part of your Dental Nurse training, you will need to find a job in a dental practice or hospital.  Here you will gain the required practical experience. You can decide to either work full or part-time so that it can suit your learning requirements. Our Dental Nurse student support team will assist you with CV-writing and interview preparation. We have also written a blog specifically about top tips on how to prepare for an interview. You can read the full article here.
There is also a vacancy section on our Student Hub which our Dental Nursing Students can access. We regularly update it with the latest jobs in your area. You can also take a look at our job board. Here you can find practices that are currently looking for trainee dental nurses.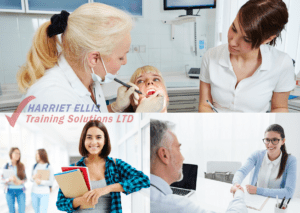 What you will learn on the Dental Nursing Diploma course
During your time in the dental practice or hospital, you will be working alongside qualified Dental Nurses. They will help you to complete your Record of Experience (ROE). The ROE is an important requirement to demonstrate that you have learned and understood the practical elements.
The theoretical part of your course covers areas such as Anatomy & Physiology, Oral Diseases & Pathology. You will also learn about Orthodontic Procedures, as well as Patient Care and Communication.
Most importantly, your additional online learning material is available for you to access 24/7. After all, we want you to be able to arrange your learning so it works best for you. Of course, our student support team will assist you throughout your entire course.
What can you do with your Dental Nursing Qualification?
The Dental Nursing industry provides great career opportunities. Once qualified in your Dental Nurse Diploma, you can register with the General Dental Council (GDC). As a registered Dental Nurse you can improve your skills and knowledge as part of your personal development (CPD).  There are a variety of postgraduate courses, for example, Radiography or Oral Health Education. Both courses available here at Harriet Ellis Training Solutions.
When you have gained 1 -2 years of clinical experience, you could also progress to Head Dental Nurse or Practice Manager.
Furthermore, you have the option to complete additional training to become a Dental Nurse Tutor or Assessor. At Harriet Ellis, we offer the Level 3 Award in Education & Training (AET) and the Level 3 Certificate in Vocational Achievement (CAVA).
If you need any further information about becoming a Dental Nurse or our Dental Nursing Diploma course, speak to one of our course advisors. They are happy to answer any questions you may have.
Health and Safety in the workplace
Emergencies in the dental surgery
Legal and Ethical issues in the Provision of Dental Care
Anatomical Structures and Systems relative to Dental Treatment
Oral Disease and Pathology
Patient Care and Management
Assessing Patients Oral Health Needs and Treating Planning
Oral Health Promotion and Preventive Dentistry
Restorative Dentistry
Oral Surgery
Orthodontic Procedures
Dental Drugs, Materials, Instruments and equipment
Pain and Anxiety Control in dentistry
Radiography
Communication
Dental Reception
HTM 01-05 and the CQC
Diet in Dentistry