Harriet Ellis is the largest privately owned Dental Nursing College in the UK.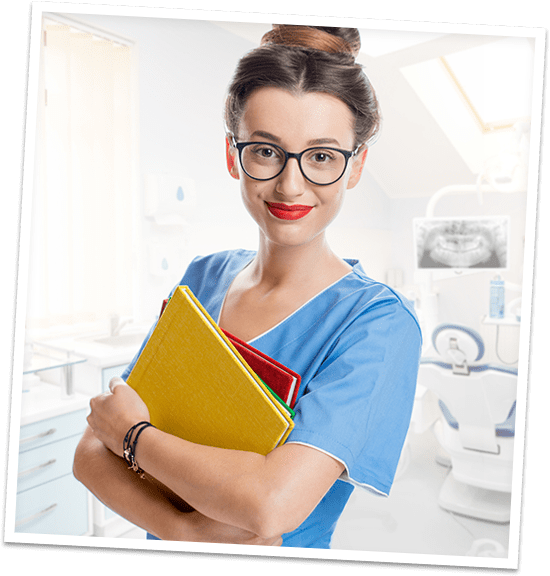 As well as our Recruitment services, we are an established college leading the way in the National Diploma of Dental nursing qualifications with the National examining board of Dental nurses (NEBDN). We consistently achieve over 90% pass marks for the Diploma in Dental Nursing Qualification run from many of our locations across the UK.
We are able to assist in helping our students throughout their course with our unique customer service department. Every student has a dedicated customer service officer who supports them both in sourcing employment and ensuring compliance. With years of experience, our customer service officers provide expert advice to guide the student through sourcing a placement. This includes sourcing exclusive placements in top practices, which are students can access through the dedicated jobs portal.
Harriet Ellis Training and Recruitment Group is the biggest privately owned Dental Nursing College in the UK. Harriet Ellis is an established training Provider with an excellent reputation for delivering both Recruitment and Training solutions to hundreds of clients. Our client's base includes UK dental practices, private hospitals and some of the biggest hotels in the world.
Our flagship classrooms are located in Stratford, London. We are always looking for new centres as we are passionate about offering such as fantastic opportunity to begin a lifelong career, with job security and excellent development potential. Currently we have classrooms in Birmingham, Bristol, Cambridge, Ipswich, Leeds, Manchester, Newcastle, Nottingham, Oxford, Portsmouth, Stratford, Surrey. We are audited on an annual basis and have an excellent audit report on each location we run our accredited classes.
Harriet Ellis was one of the first colleges to pioneer the National Diploma of Dental Nursing qualification online. Our excellent E-Learning solution allows subscribers to learn at their own pace and work from the comfort of their own home. We currently average above 90% pass rate for those students taking the online course and qualifying as a Dental Nurse.